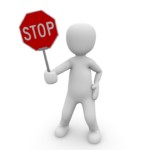 Good Grief!
The number of emails we've received over the previous few weeks about GDPR, "We need your consent", "We'll delete your account if you don't click here".
Well, if you've sent us an email requiring GDPR opt-in, please be aware – WE WON'T BE CLICKING!
If we have a commercial relationship with you, great – send us updates, we'll opt-out if we don't want them.
If we've asked to receive your newsletter, or marketing news, in the past – again great, send us your news. We've already asked for it.
Should you send us an email asking for us to "confirm your consent" then you either obtained our email without our permission, or you don't have our consent in the first place. In either case, you sending us the email asking for "consent" is unlawful! (psst – Google PECR)
Our Privacy Policy, Terms & Conditions of Sale and Communications Policy documents are being updated and will be published on 25 May 2018.
If you're itching to send a mass email to your leads or contact lists asking for Consent – have a read of this from the ICO – https://iconewsblog.org.uk/2018/05/09/raising-the-bar-consent-under-the-gdpr/